Castélie Yalombo
Water, l'atterrée des eaux vives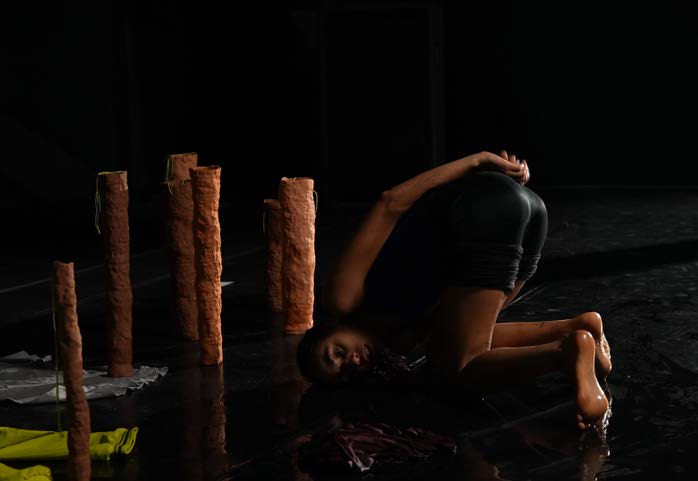 With her first show, Castélie Yalombo tackles what she describes as her odyssey of becoming Black. She evokes the difficult ambivalence of bodies caught in a vice of frictions and tensions that occur between categories of belonging: the 'there' of origin, and the 'here' of lived experience. Between incarnation and terror, her choreography inhabits the discrepancy between the two.
She visits narratives, memories, territories where her body is played out, as if suspended between the gaze of the spectators and her own subjectivity. Her body, this object that reveals, despite herself, stories of domination, displacement, exile, and hope. The ceramics installation and sound scape intervene as partners on the stage, ensuring the torrential resonance of the fragile and violent magma of identity.
Castélie Yalombo
Castélie Yalombo Lilonge is a Spanish/Belgian/Congolese artist, born and living in Brussels. Graduated from ULB as well as a Master from the Higher Institute of Choreographic Arts of ARBA-ESA in 2020. She collaborates as a dancer-performer, external gaze, co-creator. Her artisticpractice is at the intersection of choreography (in its broader meaning), installation and poeticspeech.
In residence
16 Jan 2023 – 28 Jan 2023
Budascoop